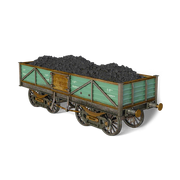 Transport Cargo by Rail by choosing Routes, initiating Contracts, and attaching Carriages to Locomotives.
In order to transport specific Cargo, Carriages capable of transporting that Cargo are required.
By default, Trains will be assembled using the "Best" active Locomotives and appropriate Carriages that you own and are not currently in use.
You may, also, manually assemble Trains by pressing the Locomotive icon, selecting a Locomotive, then choosing appropriate Carriages to attach.
The Capacity & Efficiency ratings below are approximations based upon in-game bar graphs for each while Maximum Reliability

will determine how often Repairs must be made. Preventative Maintenance cannot be preformed on carriages and must break down to be repaired.
Small Carriages
Small carriages are the most basic carriages in the game and are available from the early start. They are cheap and require resources and basic parts to craft. On the other hand, their capacity and efficiency (price per unit of cargo) is low.
Note: There are no Small Carriages capable of transporting Passengers
or Silver

.
Standard Carriages
Standard carriages are next level of small carriages and crafting require resources and excellent parts to craft. Standard carriages provide increased capacity, reliability and effectiveness (price per unit of cargo).
Premium Carriages
Premium carriages are from luxury carriage class. They have highest capacity and effectiveness (price per unit of cargo) and never break down (infinity reliability). However, they are expensive and can be purchased for gold only and their price starts from 100 of gold.
Lucky Carriages

Buy three carriages: at least one of them will turn out to be from the Premium section.
Cost: 150

.
1/3-Off Sale on Lucky carriages usually occurs once a month; See Offer.
Limited Carriages
Carriages by Cargo