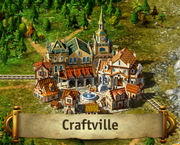 Craftville is a City east of Fineville which becomes available at Level 16.
The City
Craftville begins with pre-built Administration, Train Station and Office buildings and one buildable District available.
City unlock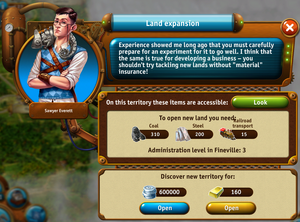 In order to open the city the following requirements must be met:
City opening price: 600 000

or 160

Resources
The city immediately has an access to the following active resources:
1 — dual city resource with Fineville.
There are no passive resources, nor resource exchange buildings.
There can be built a passenger route to Fineville.
Special Building
In Craftville, there is a pre-built Office, a special building to exchange managers for experts.
Territories
There are two adjacent locations. One is north to the city which is avilable at level 17 and second is south to the city and is available at level 35.
Quests