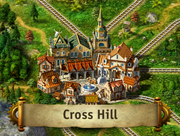 Cross Hill is a municipality centered around a town of the same name and is the first city in the game.
The Town
The town of Cross Hill begins with a Station, Residential District, and Administration and is the only town that begins with Level 2 upgrade. The town has four districts of expansion available through administration center upgrade.
Resources
The city immediately has an access to the following active and passive resources:
1 — dual city resource with Coldport.
After adjacent territory opening (North-East), the following resources will become available:
1 — requires bridge construction.
Quests
Being the starting area, Cross Hills has quests related with learning the basics of game play.
References