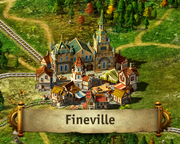 "
So then, someone has dared to challenge me? I will squash your pathetic excuse for a company without breaking a sweat! Now you know my position, do you still have the guts to stick your nose in my domain?
"
– George Moyle
"Face to Face"
Fineville is a City east of Greenport which becomes available at Level 13.
The City
Fineville begins with pre-built Administration & Train Station buildings and one buildable District available.
City unlock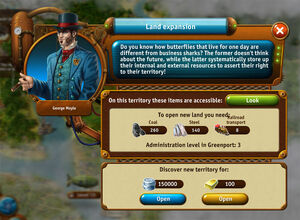 In order to open the city the following requirements must be met1:
260

140

8
Administration level in Greenport: 3
City opening price: 150 000

or 100

1 — Completion of the "Face to Face" Quest to Unlock Fineville will Reward you with 1,700

and 4,100
Resources
The city immediately has an access to the following active and passive resources:
1 — dual city resource with Greenport.
There are no passive income resources in the city.
Territories
Once adjacent Territories are Unlocked, Fineville also has access to a Dual Access Farm, Clay pit & Coal Mine (already Unlocked by Greenport), as well as a Silver mine and Passenger Routes
to Greenport, Craftville & Lastville.
Quests
Build factory in Fineville
Upgrade city administration to level 5
Transport passengers 1st class from Fineville to Greenport