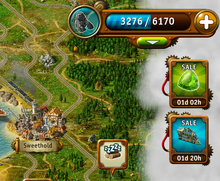 Article requires Update/Missing Data
The Ridding locomotive is an "offer" only train, there is no way to purchase it except via the occasional special offer. You will receive one for free on your 90th day of play.
The Ridding is 25% faster than base engines (vs the Ashford's 10%), and breaks down less often. The speed boost isn't generally worth the money.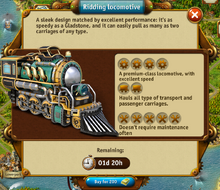 Statistics
Rating: 4/5
Train length: 2/5
Reliability: 5/5
Cost
200 Gold (only available via special offer).
Carriages
The Ridding locomotive can be hitched to all carriage types.
Upgrade
Level
Research
Cost
Benefit
1 -
500
6:00:00
250
270 5 3
Better to obtain items
2 - Suspension
1500
12:00:00
750
4 3 1
Never breaks down
3 - Efficient Burner
2000
24:00:00
1000
20 1 1
Better efficiency (60)

Once
all possible Upgrades
have been installed, you will receive the following for its
Perfection
:
2,500

5

20

Maintenance & Dismantling
Preventative Maintenance may be applied through Parts Restoration in order to prevent it from breaking down where it would require full Repair.


A Maintenance Worker may also be hired for 3 to apply Maintenance automatically using the most-basic Parts available in Storage.

A Ridding may be Dismantled for random Parts: