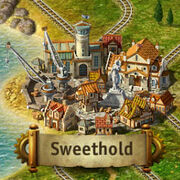 | | | |
| --- | --- | --- |
| " | - Ah, seems like my childhood dream to see what's across the mountain ridge is coming true! It's just a shame the Jam and Lynn aren't here to share my happiness! | " |
| | – Sawyer Everett | |
Sweethold is a City east to Craftville which becomes available at Level 25 and is located south to Shinestad.
The City
Sweethold begins with pre-built Administration and Train Station buildings and two buildable District. One of the buildable district is Port. Like in Lowerport, the Port is not prebuilt, you have to build it manually. Port construction costs:
Build
Speed Up
100
140
80
150
03:00:00
2
City unlock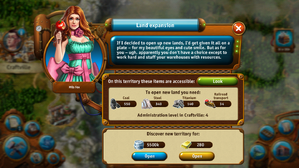 In order to open the city the following requirements must be met:
550

340

140

34
Administration level in Craftville: 4
City opening price: 5,500,000

or 280

Resources
The city immediately has an access to the following active and passive resources:
1 — Resource for Craftville only and requires tunnel construction.

After adjacent territory opening (South), the following resources will become available:
There can be built passenger routes to Windhold and Shinestad by land, and Wideport by water.
Territories
There is one adjacent territory. C6 which is south of the city (which is avilable at level ??).
Quests