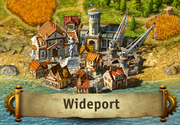 Wideport is a City south-east to Riverside which becomes available at Level 19 and is located west to Giantfort.
The City
Wideport begins with pre-built Administration and Train Station buildings and two buildable District. One of the buildable district is Port. Like in Lowerport, the Port is not prebuilt, you have to build it manually. Port construction costs:
Build
Speed Up
100
140
80
150
03:00:00
2
City unlock
In order to open the city the following requirements must be met:
460

260

20
Administration level in Lowerport: 4
City opening price: 1,500 000

or 200

Resources
The city immediately has an access to the following active and passive resources:
1 — dual city resource with Lowerport.
2 — dual city resource with Riverside
There can be built passenger routes to Lowerport and to Riverside and Sweethold  (all by water).
Special Building
There is a special spot to build Academy. Academy construction cost:
Build
Speed Up
20,000
40
25
10:00:00
8
Territories
There is one adjacent location north to the city (which is avilable at level 20).
Quests
Build a Residential District in Wideport
Upgrade Wideport's city administration to level 4
Build a Factory in Wideport
Upgrade Wideport's city administration to level 5
Upgrade Wideport's city administration to level 6
Upgrade the port in Wideport to level 3
Complete a contract to produce 5 sets of parts (craftshop level 3) in Wideport